Meet Vance | CALL resources main page | Index | Vance's papers and presentations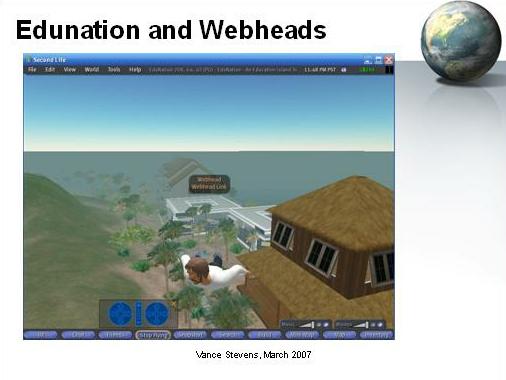 To get this pick I put my avatar in fly mode and while soaring (usually the view is from the back) turned him around quickly and snapped the picture. Try it.
Here you see Webhead Link flying over the Webheads hut on Edunation Island. Edunation is funded I believe at least in part by the British Council and is largely the creation of Gavin Dudeney, who has populated the area with lecture halls and many other learning spaces.
Information on Edunation is mirrored
---

Use the navigation at the top of this page or your browser's BACK button to return to a previous page

For comments, suggestions, or further information on this page
contact Vance Stevens, page webmaster.

Page updated: March 20, 2007
Copyright 2007 by Vance Stevens
under Creative Commons License: http://creativecommons.org/licenses/by-nc-sa/2.5/