Meet Vance | CALL resources main page | Index | Vance's papers and presentations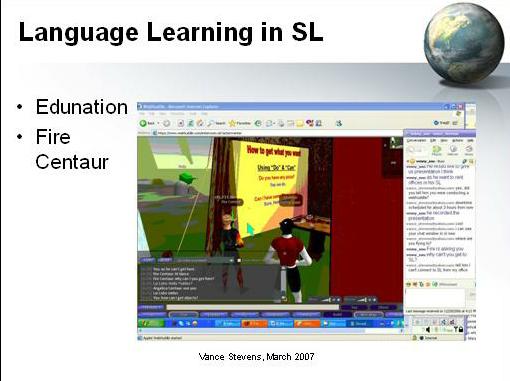 Edunation is a space where Webheads have been granted a hut.
Fire Centaur is a teacher living in Korea who has started building in Second Life and trying to attract students and other teachers to share some of the expenses of setting up spaces in SL.I placed a report on a Dec 29, 2006 class put on by Fire Centaur here:http://www.homestead.com/prosites-vstevens/files/efi/chat2006/chat2006.htm#061228
Some other projects directed at language training in Second Life:
Many of the links listed at the page mirrored at the URLs below pertain to studies of language learning in MUVEs. Active Worlds has produced the most difinitive research base so far; it's a bit early for a research base so be accumulated on SL.
---

Use the navigation at the top of this page or your browser's BACK button to return to a previous page

For comments, suggestions, or further information on this page
contact Vance Stevens, page webmaster.

Page updated: March 20, 2007
Copyright 2007 by Vance Stevens
under Creative Commons License: http://creativecommons.org/licenses/by-nc-sa/2.5/