Meet Vance | CALL resources main page | Index | Vance's papers and presentations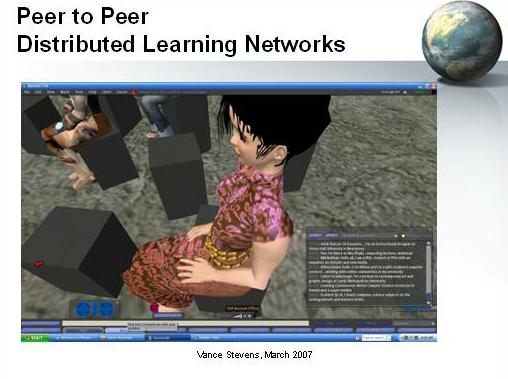 Another avatar that intrigued me at this meeting was the lady in oriental attire. She has clearly spent time, and perhaps some Linden dollars, on both her outfit and on her appearance in Second Life. If I wanted to know more about the person behind the avatar I could right click on her and see her profile. I can right click on my own avatar and change its appearance at any time. I can set many aspects of my avatar such as body shape, facial features, and hair style, for free, as can anyone else. There are also boutiques in Second Life where one can rummage for things to wear, sometimes for free, and sometimes for a few Linden dollars.
When you sign up for an account at SL you are asked if you would like to enter your credit card number. If you do then you can enter the Linden dollar cash economy in SL. If you don't give your card number, you can still enjoy rich interaction in SL. So far in my limited explorations of SL, I have felt neither need nor any pressure at all to purchase anything, and have in fact noticed only few opportunities to spend money, all subtly presented.
---

Use the navigation at the top of this page or your browser's BACK button to return to a previous page

For comments, suggestions, or further information on this page
contact Vance Stevens, page webmaster.

Page updated: March 19, 2007
Copyright 2007 by Vance Stevens
under Creative Commons License: http://creativecommons.org/licenses/by-nc-sa/2.5/