Meet Vance | CALL resources main page | Index | Vance's papers and presentations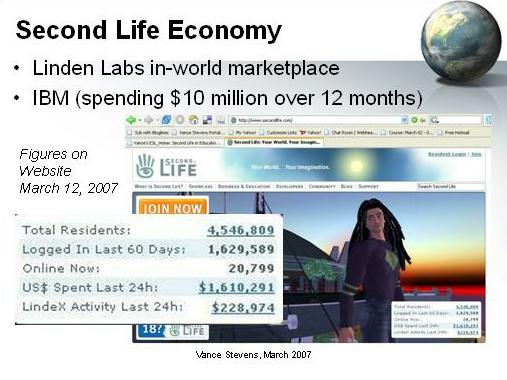 If you visit http://www.secondlife.com you might see something like this screen. In the lower right hand corner, current statistics are given for Second Life. Population figures are impressive though these have been called into dispute. The money spent in Second Life would include purchase of property there, fees paid to people who can terraform virtual spaces and write the scripts to create the desired objects there, and money changing hands through exchange of virtual goods and services (customized clothes for your avatar for example) between individuals in Second Life.
Notes
Clay Shirky has been calling Linden Labs to task for conflating user figures. In a Feb 3, 2007 posting at http://valleywag.com/tech/overcounts/second-lifes-absentee-population-236318.php he says, on reading Linden Labs's latest figures releases, "we can see that the Residents figure, as expected, is a big overcount over actual people (about 50% inflation, in fact, accounting for over a million ersatz users). Second Life doesn't have two million users. They have had two million users over the life of the service, and they've lost most of them."
---

Use the navigation at the top of this page or your browser's BACK button to return to a previous page

For comments, suggestions, or further information on this page
contact Vance Stevens, page webmaster.

Page updated: March 19, 2007
Copyright 2007 by Vance Stevens
under Creative Commons License: http://creativecommons.org/licenses/by-nc-sa/2.5/