Meet Vance | CALL resources main page | Index | Vance's papers and presentations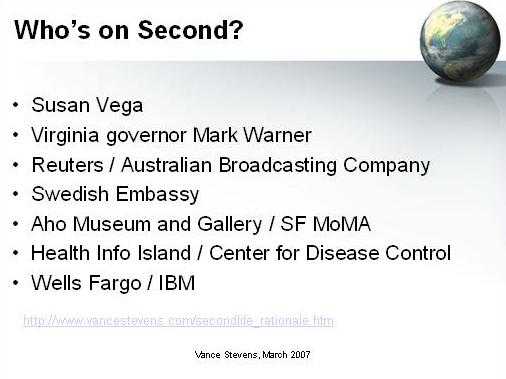 Susan Vega gave a recent concert in Second Life, resulting in some fascinating artefacts such as a multimedia film clip of how her virtual guitar was constructed, http://secondlife.com/showcase/; and numerous videos of her performance, such as that at http://nwn.blogs.com/nwn/2006/08/nwntv_the_secon.html
Mark Warner, presidential hopeful and former governor of Virginia, has staged political events (news conference, town hall meeting) in Second Life in September, 2006: http://nwn.blogs.com/nwn/2006/08/the_second_life.html and http://www.forwardtogetherblog.com/story/2006/9/15/18268/4612. These blog posts have screenshots that convey a good sense of how these events transpired, and what it must have been like 'in world' at the time.
Reuters has a bureau in Second Life and has engaged author Warren Ellis to write a weekly column called "Second Life Sketches" for the Reuters Second Life News Center starting January, 2007. In the news blurb, Ellis is quoted as saying: "Second Life is not only the biggest digital art installation in the world, but potentially the most radical shift yet in the way communities are formed online, and possibly also the germ of the next great operating system, ... It's not only a place where people get as strange as they can, but an incubator for the future." http://secondlife.reuters.com/stories/2006/12/22/warren-ellis-to-write-weekly-sl-column-for-reuters/
The Australian Broadcasting Corporation (ABC), Telstra and Tourism Australia are building islands in the virtual online world of Second Life. "It's a new platform, it's a growing platform. We think there are great ways to educate, inform and connect with people in Second Life." Quoted from: http://www.abc.net.au/news/newsitems/200701/s1836755.htm
Sweden has become the first country to establish and embassy in Second Life. It was reported on either CNN or BBC (I can't remember which I was watching) that it had opened, but if you Google Swedish Embassy Second Life these are just a couple of the articles announcing this development: http://kotaku.com/gaming/second-life/sweden-sets-up-shop-in-second-life-232047.php; http://www.boingboing.net/2007/01/27/sweden_to_be_first_c.html etc.
The Aho Museum and Gallery being built by the New Media Consortium is going to have a display from the San Francisco Museum of Modern Art http://blogs.electricsheepcompany.com/chris/?p=14
There is a 3D hospital on Health Info Island where you can meet free online consultants who can help you find resources regarding medical conditions or issues you may be dealing with: http://www.rabble.ca/rpn/episode.shtml?x=54785
Wells Fargo has set up Stagecoach Island to teach young people the basics of managing their money http://news.bbc.co.uk/2/hi/business/4248074.stm
---

Use the navigation at the top of this page or your browser's BACK button to return to a previous page

For comments, suggestions, or further information on this page
contact Vance Stevens, page webmaster.

Page updated: March 20, 2007
Copyright 2007 by Vance Stevens
under Creative Commons License: http://creativecommons.org/licenses/by-nc-sa/2.5/