Meet Vance | CALL resources main page | Index | Vance's papers and presentations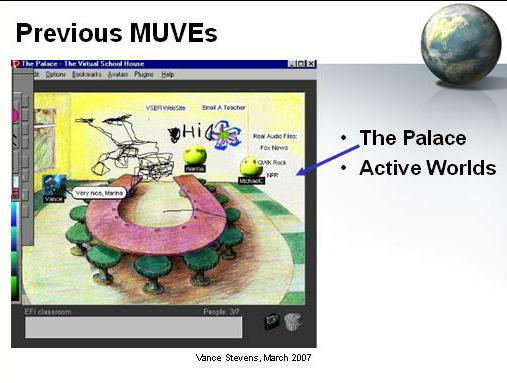 The above illustration shows an incident in the Palace from around 1998-9 where avatars have gathered in a 'classroom'. It has happened that students have placed their avatars on the chairs, but here they are simply in the space. Mine, at left, has my picture on it. One of the participants has had a medical condition for which she was given a walker, which she is trying to describe by drawing on the whiteboard. Other participants are writing messages and colorful designs. Interaction here is normally by text chat. Webheads found this to be a remarkably compelling space for frequent interaction, rich in 'copresence'.
Another space Webheads were experimenting with at this time was Active Worlds. Quite similar to SL, open source versions of AW have been used in numerous educational settings (see for example Active Worlds Educational Universe http://www.activeworlds.com/edu/) and have accumulated a respectable research base, documented in part at the link below.
Bibliographical reference to studies on MUVEs, in particular Active Worlds, are mirrored here:
---

Use the navigation at the top of this page or your browser's BACK button to return to a previous page

For comments, suggestions, or further information on this page
contact Vance Stevens, page webmaster.

Page updated: March 28, 2007
Copyright 2007 by Vance Stevens
under Creative Commons License: http://creativecommons.org/licenses/by-nc-sa/2.5/