Meet Vance | CALL resources main page | Index | Vance's papers and presentations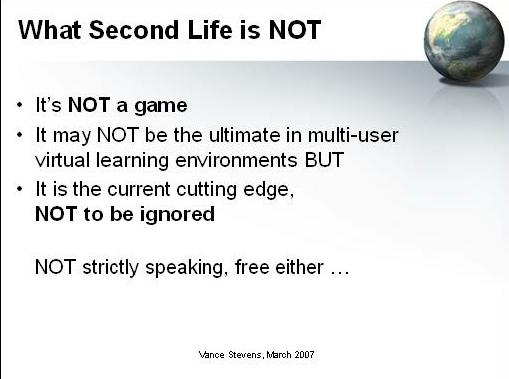 This slide addresses some common misconceptions of Second Life. It makes the point that SL is not a game but is a space with intriguiing potentials for creativity and constructivist learning in education. Whereas the Linden Lab platform has been criticised as having been granted at the whim of a commercial entity, and is that the direction we want to go, it is the current most cutting edge virtual space available for experimentation with what is possible with an MUVE as applied to learning. The commercial nature of Linden Labs segues into the next slide.
Notes:
Charlie O'Donnell has raised eyebrows, hackles, and some interesting points with his posting 10 Reasons to Go Short on Second Life, http://www.thisisgoingtobebig.com/2006/11/10_reasons_to_g.html.
---

Use the navigation at the top of this page or your browser's BACK button to return to a previous page

For comments, suggestions, or further information on this page
contact Vance Stevens, page webmaster.

Page updated: March 19, 2007
Copyright 2007 by Vance Stevens
under Creative Commons License: http://creativecommons.org/licenses/by-nc-sa/2.5/