Meet Vance | CALL resources main page | Index | Vance's papers and presentations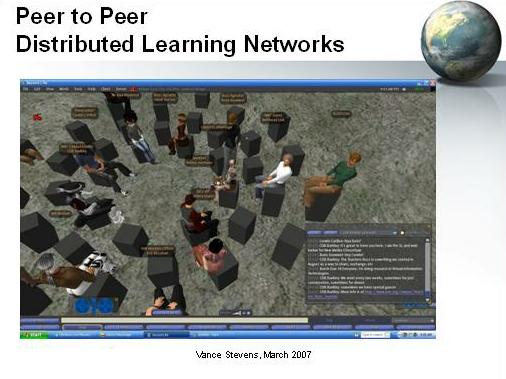 The presentation discussed peer to peer ecologies with respect to knowledge distribution networks. The thrust of the argument is that SL serves as an excellent platform for attracting education professionals and their students and for creating an environment conducive to sharing of expertise while they are there.
The picture comes from a meeting held on the NMC campus. In the lower right of the screen you can see the cameral controls. By clicking on the controls you can maneuver your camera so that it zooms and pans the virtual space from whatever perspective you wish.
Here I've moved my camera overhead. With reference to my avatar Webhead Link (in white shirt) note the gentleman in front of me and also the avatar in oriental dress to my left.
---

Use the navigation at the top of this page or your browser's BACK button to return to a previous page

For comments, suggestions, or further information on this page
contact Vance Stevens, page webmaster.

Page updated: March 19, 2007
Copyright 2007 by Vance Stevens
under Creative Commons License: http://creativecommons.org/licenses/by-nc-sa/2.5/