---
Meet Ying-Lan

Is that Ying-Lan on the left, or on the right?
Ying Lan has her own web page here: http://tinyurl.com/yinglan.

In the summer or fall of 1998,Ying Lan met Vance in the Palace by coincidence. At the time, she was in Vera de Mello's online class. Since then, Ying Lan has had much to say about the way she uses online classes to help her learn English.

Ying Lan has appeared at numerous online presentations at international conferences on language teaching, including the TESOL Conference in Vancouver, March 17, 2000, at which Vance presented a live Webheads synchronous chat class with online partners Michael C and Maggi Doty: http://www.netword.com/vance@tesol2000;

Here are some urls to help you catch up on the news in Taiwan
Ying Lan is returning to Taiwan via Hawaii (Jan 15, 2003)
I am leaving for Honolulu in the early morning on Jan 15, 2003. I will arrive in Taiwan on Jan 20, 2003 at night (9:20 p.m. at CKS airport). I will stay in Hilo with Elia's family for few days until Jan.19, 2003. Hilo is located on one of the islands of Hawaii. Elia was my homestay-mom in Vancouver, I went to Vancouver in 1996.. Remember that? It's driving me nuts now... I still have too much stuff... it looks like I'll be overweight. I am working on reducing the weight of my luggages. Please wish me good luck... Ying Lan
Vance visited Ying Lan in New York in April 2002. Click here or on the picture for details.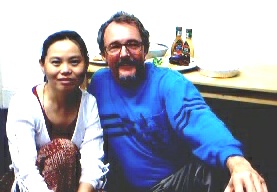 Ying Lan went to New York City for a year from November 2001. Here's her news from August 2001:
I am not working IN the Service Dept. anymore. Finally, I got rid of being a call girl. My manager told me that I would be in New York from this November. It is not good, if I put everything off to fly to New York in November. It takes time to train another guy to take over my job. At the same time, we lost 5 co-workers in August.
We have a new Investigation of Credit Center at our Taichung Branch (I was suppose to transfer to work there before I got the notice to go to New York). From August, I have been transferred to work in Export-Import Documentary to check those documents. It has been hard for me to just stick myself in a chair and settle down and keep quiet doing paperwork. I used to work outside of my office and communicate with people, but the worst thing is that I have to work late. Especially on Friday night, I have to make sure every document will be done, since all of them have to be sent out then.
Ying Lan made some interesting trips to the Appalacian Trail and the American west, October 2002 <-- click here to see her description and pictures.
Since we've known her, Ying Lan has been through major earthquakes and typhoons in Taiwan. Here's her account of the typhoon in the summer of 2001:
On the day the typhoon was coming I was on my way to work. I was driving in Taichung County as usual, and it was difficult to see everything in the heavy rain. Fortunately, my small car still worked even though water overflowed a small river, and I made it to work ok.
At noon, I got a phone call from my colleague, who told me that the government had just made an announcement. They had decided to give everyone a half day off. For some people it was a bad decision, because they had to go home in such bad weather. They criticized the government because they had not decided to make the announcement before 8 a.m. For some bosses though it was good to make this decision late. Because the staff had to work in the morning, they had enough people to move merchandise, material, and other stuff to save their property from the flood.
I made a phone call to my mom, but I could not reach her. I heard the first ring but after that there was nothing, only a buzzing sound. Then we got a call from my colleague who was on his way home. He said the flood had blocked some main roads by then including the road near my parents' house.
I was in a rush to go home. When I was driving, I remembered that another colleague had told me it would be o.k. because Feng Yuan City is located on high land.
How lucky we were!! When I got home, my parents were in the bedroom taking a nap. My brother was on the computer, but because of the heavy rain, the phone line was down. I watched 4 movies using the power-player on my notebook.
I knew something was wrong outside of my house. After the 921 earthquake, I had discussed this issue with my co-workers. I remembered that a few years ago I had read an article about the power of nature. I definitely understood that after the earthquake, we would have flooding because the system of drainage had been changed by the earthquake. We need water to rebuild the system in the mountain by the power of nature. Otherwise it will cause disaster to human beings. We should block those mountain areas to stop people from visiting or working there. But it will be a difficult decision. The Mayor of the Taichung County made that decision after 921, but one month later, because people were against it, he changed his mind. This time, We saw how nature showed its power again.
I cannot say that our people are stupid but they have to take some responsibility by themselves and not just expect action only from the government. You know how difficult it is to persuade people to take difficult decisions.
Ying Lan has written on the following Webheads writing topics. Read what she has to say about ...
Here are some other things that Ying Lan has written for us to think about ...
This is Ying-Lan at the Palace
Click for big picture
Ying Lan often shares her favorite poetry and music with friends and students in the Writing for Webheads eclass
Ying-Lan has suggested a theme song for English for Webheads: Open Up. << find out about it here.
Bora sent the card on the left, and Naeem sent
the one on the right
on Ying Lan's birthday
March 8, 2001
On 11 Mar 2001, Ying Lan wrote us about how she spent her birthday: There was an urgency in my company. One of the employees had just taken off for one week. So, I had to help them to handle some documents during the rest of the working days of this week. I had no time to do my spread sheets. I was supposed to work this weekend alone in my office. That was how I celebrated my birthday.
As Moral said, it was also a Woman's Day in Taiwan, but it is not a holiday. We have to work on Woman's Day. On that day, people are always having fun, because my managers always give female colleagues a surprise. Like today, we had an unexpected extra dessert-- a piece of pie this afternoon. Someone told me that in other companies female colleagues were given a rose. In Chinese, we might describe a woman using the word "38"; like, "She is very 38." It is not a good word - it means "spinny", or "airhead" (she is spinny; she is airhead... or something like that). My friends or classmates always said "Waaa.. it is really you, you are so 38," when they found out it was my birthday day. It is fine, it is fun, I don't care about that.
Ying Lan's page (this one) caught the attention of "someone out there." Ying Lan sent us this message:
Vance
I am so happy to read the email from someone whom I don't know.
Ying Lan
----- Original Message -----
From: "Spaceman Spiff" <spiff@flashmail.com>
To: <yinglan@gcn.net.tw>
Sent: Wednesday, February 21, 2001 12:51 AM
Subject: thank you for the song
hello yinglan,
i just wanted to send you an email to say how grateful i am to have been able to locate your website. the story goes like this. a few years ago (i think it was in 1999), as a student in university, i was surfing the world wide web one night and i chanced upon the website of the webheads. i was browsing through the pages of the different students and found yours. what intrigued me most was the song you had written about called 'Stories' and sung by Chyi. it was hauntingly beautiful, and listening to it then, i could help but share it with another friend who was online.
a year after that, my computer harddrive crashed and i lost that song. as hard as i tried, i couldn't remember who sang it and what the lyrics were. i only remembered remnients of your page and the tune. try searching the internet with that! i asked my friend too, but he simply couldn't remember what i was talking about. i was so upset. how could he not have remembered it? i suppose that moment when i first heard the song was only magical to me.
i do not know why, but i was watching a show on television earlier and because of a tune they were playing, i was suddenly reminded of the song. this time, i managed to remember the lyrics "no one to wipe away my tears" and i did a search for that. however, i was unable to find that song again. i tried so many different variations of searching, different software and after nearly 2 hours, i found out that a song called 'Stories' by Viktor Lazlo had similar lyrics. searching for that also proved futile. i nearly gave up then, but decided to read in detail how i could better my search, in particular to search for your page. of course, i was hoping all this time that i would be able to find the song in mp3 or something downloadable so i could listen to it.
when i finally typed in a very long search list with a lot of '+' and '-', it finally popped up. your webheads website! it appeared! i was overjoyed. it seems almost the same as before, including the trip you took to Nordkap. the funny thing i can say about all this is, i thought the song was in mp3, but it's in realmedia format. i was so sure it sounded much nicer and clearer than realmedia. well, the song must have made quite an impression, because in my mind, it was crystal clear.
once again, i thank you.
sincerely yours,
nicholas tan
---


Use the navigation at the top of this page or your browser's BACK button to return to a previous page
For comments, suggestions, or further information on this page, contact Vance Stevens, page webmaster.
Last updated: October 10, 2009 at 6:45 GMT
To link to where we moved Ying Lan's files from Geocities to here :-)
---