---
Webheads wish you a Merry Christmas, Eid Mubarak, and Happy New Year and Spring Festival 2001
See the Webheads' millennium greetings from the holiday season and New Year 2000
Several Webheads made wishes for the coming year. Click here to see them.
Click on a name to see a greeting: Vance | Gloria | John | Arif | Felix | MaggiE | Moral | Marina | Maggi | Michael
However you celebrate it, we wish you a happy end-of-year season and peace and prosperity in 2001.
We hope to add your greetings to this page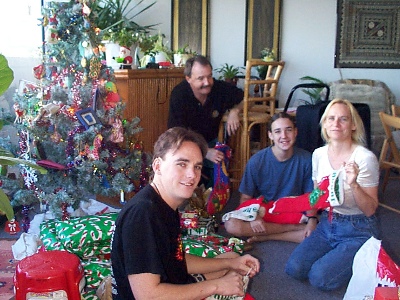 This is what it looked like at the Stevens's house on Christmas day, 2000. You can click on the pic and see the 'card', but if you're in China, you probably can't reach the Geocities site where the card is. At least then, here is one of the pictures that's on our card (and if you can reach Geocities you can visit the 'card' or click here to see more photos) - Vance
Vance wishes you the very best this holiday season
http://www.vancestevens.com/xmas2000.htm
Gloria sent us a Care2 e-card! To view the card, simply click on this address: http://www.care2.com/ecards/p/2356-9306-17556-5983
The card can be seen for 14 days from Dec 22, 2000.
Gloria,
Thank you for the card. It was fun to decorate it.
http://cards.webshots.com/46132856113
John
Hi all, I would like to wish you all happy xmas and happy new year. For this occasion, I am about to travel out of town. That's why, I won't be able to join you for couple of weeks (since we are given 10 day long holiday -combined with the Ramadan holiday in Turkey). Wish you all a merry xmas and new year. Best wishes, Arif
Merry X-mas for the whole community
Best Wishes
Felix
Hello, everyone, Spring Festival is coming. Tomorrow I will go back to my hometown with mum and dad to celebrate it with other members of the household. I will spend 8 days in my mum's and my dad's home. When I get back home, the festival will be nearly over. So, though it's a little bit early, I wanna say Happy Spring Festival here to everyone. No matter where you are from, no matter if you will celebrate it, I wish you a happy festival from the bottom of my heart. :-)
Regards, Maggie - 22 Jan 2001
Today is the first day of the new Year of the Snake. So happy festival to those who celebrate it! Hope you have a lucky year!
Moral - 22 Jan 2001
I hope that all of our friends in China are having an excellent Spring Festival. As usual, we'd love to hear how you celebrate it. Last year, we heard from a lot of you. For some nice memories, and an explanation of what the festival is all about, see http://www.homestead.com/vstevens/files/efi/springfest2000.htm.
All the best to everyone, and happy Spring Festival ... FANG XI FAT CHOI !!
Vance


Dear friends, Happy 2001!!!
I hope you enjoyed your New Years Eve, wherever you were. For me it has been a family dinner with my parents, my brother, my sister, my aunt, my husband, and our son. I cooked for them with my mother's help.
Now I send you the recipe of the dish I told you about during our last chat. < -- see it here!
After dinner, at midnight,we toasted the new year then we opened the windows to see the beautiful fireworks outside.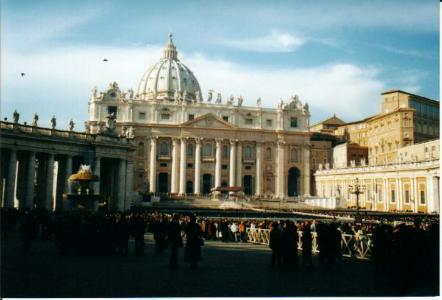 On Tuesday 02 January, I went with my son to the Vatican to pass through the Holy Door and pray for peace (the Holy door is opened only for the jubilee every 25 years). I send you a picture of the event as a gift to all the webheads. I send also another picture of St.Peter's Place to let you see the pilgrims' long queue. The holy Door was closed today with a long ceremony.

I hope to see you online soon.

Best wishes.

Marina
| | |
| --- | --- |
| Und jetz eine Grußkarte von Maggi | |
http://ecards.t-online.de/ecards/cards/2_001223/1046/frames39763-771796109.html
I hope Christmas and New Year are happy occasions for you and your friends and family,
and that 2001 is enjoyable and successful for you.

Michael Coghlan.
Dear Webheads,
I've never been very good at sending Christmas cards, but I thought I'd send out an email update on what me and my family have been doing, and a kind of Christmas card all in one.
First let me say how much I like being part of Webheads. I really enjoy having contact with you all.
It's been a good year for me. I have really enjoyed my new job as Professional Development Officer in Online Learning. I've always enjoyed been mobile and this position allows me to get around to many different campuses around the state. No two days are the same. I was also fortunate enough to be sent to the US for a conference in the middle of the year. Needless to say, I'd be quite happy if work sent me away again during 2001.
I would like to take more journeys though. I have gained great pleasure and felt much envy reading by brother's travelogues from various corners of the planet for the last six months. As the children grow older and are closer to leaving home, I start to think that I may be able to do more travelling before too long.
Not that the children are here that much. Ben (22) spends most of his time at his girl friend's house, and Joti (17) is in the middle of a post exam social whirl and enjoying his new car. Alison (20) moved out of home for a while but has returned. She has a part time job and is going to study Child Studies next year. Joti will do his final year at school (he's heading for Architecture after that), and Ben just has a few subjects to complete at uni before he can start his life as a primary school teacher. He is also doing well singing in a band. Alison is doing a great job on violin and is getting better by the day. Most importantly, the three kids have survived our blended family well enough to still enjoy each other's company, and most of the time are reasonably happy and healthy.
As are Elizabeth (my wife) and I. For those who don't know, Elizabeth is also an English as a Second Language (ESL) teacher and really enjoys it. She has done really successful things using the Internet with her students this year.
We are having all the Coghlan family here (all those who are in Australia) for Christmas dinner, and we are looking forward to a busy and I hope enjoyable day.
Oh yes. I do still play guitar and sing. But not enough though. It's been hard to maintain playing music professionally with increased work responsibilities over the last year or so. I'm going to try and work on redressing that next year. What are your plans for 2001?
Happy Holiday Season from the Webheads
---


Use the navigation at the top of this page or your browser's BACK button to return to a previous page
For comments, suggestions, or further information on this page, contact Vance Stevens, page webmaster.
Last updated: January 27, 2000 in Hot Metal Pro 6.0
---