See some "Outta-site" links for ESL students
Return to CALL resources page | esl_home index
Webheads: Main Page | Welcome | Students | Virtual Community | Online Class | Chat Logs
Next visit, start at http://www.netword.com/webheads
---
A Special Webheads Seasons Greetings
From Our Virtual Community
Merry Christmas and Eid Mubarak and Appropriate Greetings to all Webheads this Millenium Season.
E-Cards
From Moral

Merry Christmas to you Webheads! http://www.SendCards.nu/christmas5/?Webheads
http://www.care2.com/r.html/385e95448dbb7/efiwebheads/egroups.com
http://www2.bluemountain.com/cards/box7375k/vnt7uknhkhyjab.htm
http://cgi.cardmaster.com/cgi-bin/get.pl?7500055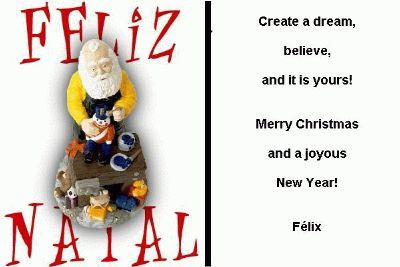 From Gloria
http://members.tripod.com/aironald/xmas/index.html
...And may the child Jesus Christ bring us peace, love and all the grace we need
I really enjoyed your friendship this year so my prayers go for a new year of sharing and learning with you all.
Enjoy the season's parties as much as I'm already enjoying them. This is the most beautiful time of the year...Christmas is the reason for this season
..."Mary´s boy child Jesus Christ was born on Christmas day...Oh my Lord you sent your Saint to save us .."
For those on the list who are not celebrating Christmas I'm sending them my respect...
HAPPY, HAPPY, HAPPY NEW MILLENNIUM
Will be in touch.
Till then may God bless you.
Sincerely,

Gloria.
Chotima writes:
Dear all,

Merry Christmas and Happy New year. I hope everyone has a nice day in millenium year.
http://www.hallmark.com/hmk/Website/greeting.jsp?id=EG0146-254048-440717
http://www.hallmark.com/hmk/Website/greeting.jsp?id=EG0146-154087-540717
José writes:
MERRY, MERRY XMAS, AND MY BEST WISHES FOR A GREAT 2000
Vance - fantastic that you make the time to do all this on the road. Christmas is over here - half past midnight. Have a great day Vance and a peaceful Christmas to you and yours! You're a gem.
My Pleasure! Best wishes of the season to all!
Read more about Webheads' hopes for the new Millenium!
---
Use your browser's BACK button

to return to a previous page

For comments, suggestions, or further information on this page, contact Vance Stevens, page author and webmaster.
Last updated: December 25, 1999
---