---
Read about Michael's typical day
Find out how Michael met Elizabeth
Read what Michael says about his hometown, Adelaide
Meet Michael Coghlan
Hi there. I'm another EFI teacher who you will meet if you join us online at noon GMT Sundays.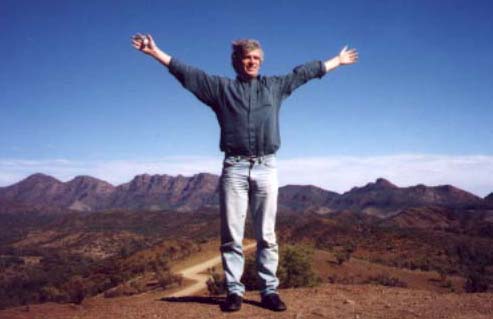 What's Michael been up to lately?
From his email, 19 May 2003: Voice Online Study
Hi everyone.
I'm sorry I havent been very visible around Webheads lately. But I have a really good reason! I've been lucky enough to get a grant to do some study into the use of voice online. This will mean that I get to some travelling during the year, and I hope to meet some of you on those travels.
What I hope to do is this:
host a number of events where we experiment with voice online tools (as we often do here in Webheads anyway)
host discussions about these various tools (as we often do here in Webheads anyway)
write up a report about how these tools can be used in education (I guess Webheads also do a bit of this too!)
I'm going to host all of this in a wonderful site called Learning Times http://www.learningtimes.org. It has several tools ( eg Wimba, Elluminate) built in to the site and they have a range of discussion tools available free for members. You might like to visit the site and even become a member. Membership is free.
TO FIND MY CORNER OF LEARNINGTIMES (A Community of Voices) * You will find my introductory message on my program at http://home.learningtimes.net/learningtimes?go=123245 http://home.learningtimes.net/learningtimes?go=123245 To post a voice introduction go to http://home.learningtimes.net/learningtimes?go=123249 and use the Wimba Voice Board there. You don't need to record to disc or email it. There are instructions on how to use the voice board on that page.
I will be asking people to join in several events over the coming months <starting with> voice or text chat about how we can use these tools for teaching and learning. I'm especially interested in how they can be used outside the sphere of language learning (where the value of their application is obvious.)
I'd also like to compile a list of URLs that Webheads have compiled in the use of many of these tools, so Vance, Rita, Daf, Teresa, Aiden, et al if you have created pages on any relevant topics can you send me them?
- Michael.
I don't know if I qualify as a troubadour these days. I may have once when I did earn my living as a travelling musician. Take a look at the hairy guy at http://users.chariot.net.au/~michaelc/israel/busking.htm This photo was taken in Jerusalem in much happier times when it was quite safe to sing on the streets there.
In the (northern hemisphere) summer (August?) 2002 Michael led us in a successful participation in Net*Working 2002. http://nw2002.flexiblelearning.net.au/, involving the participation of many Webheads (including Vance, who checked in from cybercafes in Rajastan at appointed times). And the page to the abstracts for that conference are here: http://users.chariot.net.au/~michaelc/ccc/pres.htm
On Nov 27, 2002 starting at 1:30pm in Taiwan (5:30 am GMT). Aiden's class will listen to the songs Michael Coghlan has composed and sung (on his site). They will do a fill in the gap activity, and perhaps, sing along with the music. Michael will appear for an online student-teacher conference (sort of) with Aiden's students. The objective is to allow them to talk to the composer/singer online, get to know him better, as a teacher, and as a person. Using yahoo messenger, they would be able to speak to and hear the composer. Other webheads may of course join us (please do). Browse this page and the links to know more about the students you'll be meeting on the 27th.http://www.geocities.com/aidenyeh/nkfust_listening.html
About Michael's web pages, there are three songs, 2 with cloze exercises, starting at http://users.chariot.net.au/~michaelc/fearsongcloze.htm Click on NEXT song at the bottom of each page to go the next one. There are a few other songs just to listen to at http://users.chariot.net.au/~michaelc/music/hssongs.htm. And also some other non-musical listening activites starting at http://users.chariot.net.au/~michaelc/toeflintroassign.htm
---
Use your browser's BACK button to return to a previous page:p>
For comments, suggestions, or further information on this page, contact Vance Stevens, page webmaster.
Last updated: July 25, 2003
---