---
Meet Denilson
Denilson, or Dan, is one of our ORIGINAL EFI: English for Internet Writing for Webheads members, since 1998 or 1999. He still keeps in touch with his friends in Webheads. At Christmas 2004 he sent us a video which I put on our website. You can view it here:
http://www.homestead.com/prosites-vstevens/files/efi/pics/denilson2004.mpg
Denilson wrote down for us what he likes about Writing for Webheads
Denilson checks in now and then. Read how ...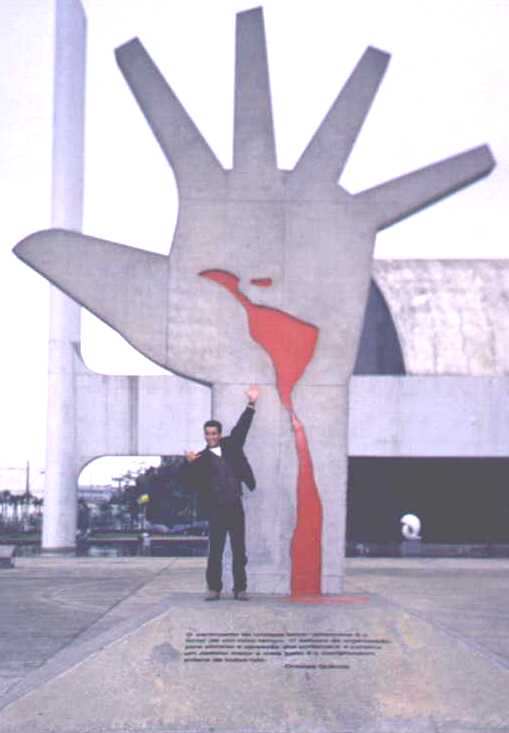 This picture was taken at Memorial da América Latina - São Paulo
An update from your brazilian dude! - Sept 2002
So, as I wrote before, the only way the return to the computing field and get a job since i returned from the states, was to do a specialization course.
I started with CCNA - Cisco Certified Network Academy - it is a course to work with routers, devices that connect different WANs - Wide Area Networks.
So in the second semester of a total of four, the supervisor suggested I contact someone about giving some computing classes, so I called and I got the job. I taught for 2 months and in the meantime I was looking at the newspaper for a better job.
Finally I found in the newspaper a job opportunity, someone who was looking for someone that was doing a CCNA, so I wrote a nice letter and weeks latter they called. I did two interviews and I got the job.
Cool, now I´m working at AGM - Telecom, working with cabling, phones, video conferencing, Web-cams and process documentation.
My international experience was something that made me stand out from other candidates.
Now I can use the Internet more often, and everything looks cool, doesn´t it? Yeah, but I´m not getting as much money as I think I deserve.
But as any human being, we are never totally happy.
Now all that I need is to keep working here and try to get a better salary or even a better job.
I´m still thinking to travel and work abroad, in Europe or Australia. Can anyone help me to get a job abroad?
Oh! Before forget, I started to write Ms. Juana Barrientos, because she lived in Colorado too, so we have a lot to talk about with each other.
Take care you all!
With love,
Denilson
Denilson has written on the following Webheads writing topics
Denilson when he first joined Webheads (before summer 1999) ...
Hi! My name is Denilson and I live in Brazil. I want to increase my knowledge of English in order to do an interchange later this year.

I have some problems with English grammar and spelling because I always learn alone and never pay any attention to grammar. I hope to be better now that I know a lot of people from EFI.

Denilson checks in from the states (October 1999) ...
Denilson wrote again November 1, 1999.
Well, in the beginning everything was new, streets, parks, other places. Things here are so different from Brazil. The food is spicier, and the people are more polite and more conservative.
Colorado is very beautiful [http://www.pikespeak.com]. We are in the mountain region. Now it is cold during the night and it will snow from November until April. People here are waiting for the ski season to go skiing and snowboarding, but the lifts are not here in Colorado Springs, the city where I live. The ski resort is 2 hours from here, in Vail.
I'm living with an American roommate (just1 minute from the hotel where I work). He is teaching me slang, new words, and pronunciation. When we international students arrived, we could stay for 45 days in the hotel's accommodation, to meet other international students, but after that, we had to move out and rent an apartment. I had the option to live with a Hungarian guy, but because of the English [and the rent] I prefer to live with the American guy. After 30 days I bought a car [Hyundai Excel] because here the places I like to visit are far away, and the buses run just until 6:00 p.m. Because of that, everybody has to have a car. Here it is cheaper to buy an old one.
The quality of life is good. We work hard, but we earn a salary appropriate to the work, so it's fair. In Brazil sometimes we worked hard and the payroll was pathetic while others did almost no work at all and earned a lot of money [politicians].
I know some bars but now it's too cold to go out during the night, so I stay at home watching TV and eating frozen food [Chinese and Italian].
I am working from 08:00h to 16:30h in the computer room of the Broadmoor hotel [http://www.broadmoor.com] and my job is to help users with problems [printers, PCs, workstations...], run programs, print, separate and deliver reports. Now we are testing all the PCs because of the Y2K year bug.
As for friends, I have made a few since I arrived, first international students, and afterwards in my job and through the Internet. The majority of my friends work in the hotel [1,700 employees].
I hope to get to know the surf after going to Hawaii. I'm negotiating with my boss for 2 weeks off during January to get to know the Pacific islands. I miss the ocean a lot, the Florianopolis beaches and of course the surf. And after I finish my training I'll probably go to California and maybe Mexico.
Sometimes I feel homesick, but I need to keep my mind here and not in Brazil to take advantage of this training, but I miss Brazil a lot...
Ok! Friends, good vibrations for everybody...
Denilson
Denilson checks in from the states (October 2000) ...
Dear friends, sorry for this e-mail being not personal, but this is just to let you know than I'm back on-line. After 2 weeks vacation at California and one week back in Colorado Springs this is one of the first e-mails that I'm sending. I've been tired of using Internet, but this is my world channel so I'm here again.
"They call me Slim Shady, I'm back, I'm back"
Eminem.
Denilson
Vance replies, October 5, 2000:
Hi Denilson,
Sorry for not replying sooner. What were you doing in California for two weeks? Could it have included surfing? Where'd you go? How are things back in Colorado Springs?
Are you still doing your internship at the Broadmore Hotel? Making friends, meeting girls? I enjoyed the pics you put up on the web about Florianapolis that you told us about some time ago. I presume the guy in most of them is you. Got any more pictures from California or Colorado?
From your friends at Webheads,
Vance
December, 2000 – Denilson is back in Brazil now after a year in the states
...I took a break and slowly I'm returning to the reality.
The weather is great, the beaches, the surfing, family, friends.  It's been really nice to be home again, but I'm already missing the states...
My life is here now, or at least until my next visa, so I started today to look for a job in the computer or English school fields.  I did a test today to evaluate my English skills. I thought it was easy, so my English looks good compared to the average Brazilian level. Maybe I'll have luck at an English school. I would like to teach English to kids and young people...
Big Hug Vance,
Dan - 05 Dec 2000
Sorry I haven't written before, but I know u can understand...
Living in this wonderful island with 42 beaches at the beginning of summer with temperatures around 80 - 90F gave me a hard time to stop in front my computer to write.
But now I'm here and I'll tell how my trip was until I got here in Florianopolis.
Before I caught the airplane in Atlanta to Sao Paulo I went out from the airport to get to know the city.  That was the last city than I saw in the USA.  It seemed to be a nice place, a bit different from the West coast and Mountain Zones.
The flight was very comfortable because I could sleep all night using 5 airplane seats, so I wasn't so tired when I arrived at Sao Paulo...
When I arrived in Fpolis, my family was waiting for me with banners and a special party [tons of food].
I saw mostly of my friends on Saturday and is is cool to know that they are still there, my friends.
On Sunday was my mom's birthday.  She was happy to have me around that day. She still is not 100% ok but I'm trying to help with what she needs.
For the past 2 weeks I've been going to the beach every day, every day with waves, surfing, watching the girls, and doing nothing...
Here everything is fine, but still the same...
But I miss the USA and a bunch of people I knew there, and now I need to start thinking about how to return because it isn't easy with the American Embassy in Sao Paulo. The States looks like a dream to me now...
Miss you all
Dan - 10 Dec 2000
July, 2001 – Denilson checks in after 7 months back in Brazil
Hi folks,
Sorry for the long time without news, but I was waiting for something happy to tell, but nothing yet.
It has been six months since I returned to Brazil. My mom is in good health now, but I'm still not working and I'm looking ahead to decide what to do about my life.
I've got lots of plans. I wish I could travel again, but nothing is for sure...
I'll let you know when better days come.
Best regards,
Denilson
p.s. My english is getting worse since I left the USA
June, 2002 – Denilson has been back in Brazil 18 months now
Hi Teacher, hi everybody...
I haven´t written to our group for a long time. While in The States I was learning English everyday, everywhere. Any situation was like a lesson, like going to the insurance company, getting a driver licensse, going to the doctor. Plus, working at the Broadmoor Hotel I had an English as a second language class...
Working as a computer operator I couldn´t use the computer for my bussines, although sometimes I wrote to my friends/family in brazil...
After returning from the States, it was in November of 2000. I hadn´t a computer at home and I returned on-line only a couple of months ago, when I started to do a CISCO networking course, so now when I go to school I can check and write my e-mails.
I need to confess that I´m not writing lots of my old friends, because since I returned I didn´t get any job in Brazil. I opened a bar during our last summer, but it didn´t go well, so I started to feel like americans say: A loser.
I wish I could write all my friends telling about my sucess and how good my life is and not bother anyone with my complaints.
Now the only exit I can see is that I need to study, more and more to get higher and higher positions or at least return to the computer field.
So my friends, wish me luck to get a new job and return with good news.
The most important fact is: If something good or bad is happening in your life, it is for some reason and maybe just god knows why that is happening! All we can do is try to work and study more and more to go far and met your realization.
God bless you all,
Denilson / Dan
Denilson,
Nice to hear from you.
I'll say one thing ... Your English has REALLY improved A LOT.
Keep in touch. Your friends are still with you in Webheads.
Vance 19 Jun 2002
Hi Denilson / Dan

It was nice to hear from you again and yes, when you live in a country and are surrounded by English, everyday is a lesson. A nice way to say it. It is good to see that you keep it up.
Sounds like you have some ups and downs in your life like most of us. No one here would think you are complaining but are happy to hear what is happening.
Your philosophy is nice...dream and try to work to make it come true.
And I wish you the best of luck!!
Maggi :-) (the teacher)
---


Use the navigation at the top of this page or your browser's BACK button to return to a previous page
For comments, suggestions, or further information on this page, contact Vance Stevens, page webmaster.
Last updated: February 4, 2005 in Hot Metal Pro 6.0
---