---
Meet Sue

In April 2002, Sue visited Vance in Houston, Texas. Webheads went online with webcams for the occasion. http://sites.hsprofessional.com/vstevens/files/efi/sue_houston.htm

Vance dropped in on Sue and her husband, JJ on July 1, 2005 and took this picture.

Sue graduated from Texas A&M and got married and moved to Houston, where she had a baby boy, Vincent, in May 2005. Vincent was asleep when the picture was taken.
. On June 18, 2002 Sue had a birthday party online using Yahoo Messenger web cams. Many Webheads sent greetings, which you can read here.
Sue asked Vance to help her with a letter in May 2002. This is an exerpt:
I am a Chinese graduate student, currently studying in the English Language Institute at Texas A&M University. I speak and write 3 languages fluently. During my masters courses in Osaka University, I learned the Japanese language and, at the same time, I completed my MS program successfully. As a result, I received scholarships from Ninety-Nine Asian Student Scholarship Foundation and from the Ministry of Education of Japan when I was taking masters courses. Furthermore, I was one of the two students among international students and Japanese students, honored with an award for outstanding students from the department of Naval Architecture and Ocean Engineering Alumni Association at Osaka University. My studying experiencs in the first foreign country for me has helped me develop the ability to adapt to new circumstances quickly and independently and improve my ability to solve problems efficiently. Besides, until December of last year, I worked as a Naval Architect in a Japanese shipbuilding company, where I was the company's first female Engineer. I was also a Vice President for The Youth Union, in charge of organizing hundreds of youth in our company to work on social activities
In mid-November, Vance recorded a chat with Sue on Yahoo Messenger. It is posted here with Sue's permission.

Thank you very much for your kind reply. I opened the webheads and read mails from other students. Suddenly I feel that i should send the photo to you, to all friends here. I am sending it right now, I am sorry that in my computer there is only one left, which has been done by my friend.

Hope to meet you on Sunday.

Sue, 24 May 2000
Sue likes the video-sharing so much that she bought her own web cam.
Sue lives in Okayama, which is here ...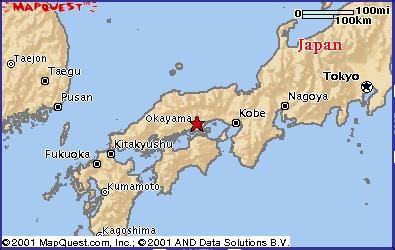 Sue is concerned about global warming. Read what she thinks about it here <--
I would like to thank you very much at first for giving me such a chance to study English under your kind instruction. I studied English until I finished my bachelor in University. But since then, I have seldom used it. It is easy to forget since it is not my mother tongue.
Although I am working in a company now, I would like to apply for my Ph.D course later once I pass my TOEFL and GRE examinations. Not only for further study but also for international communication with all people from all over the world, it is necessary to speak fluent English and use it freely. I hope I can improve my English greatly under your instruction.
Please forgive me if there are mistakes in my English.
July 15, 2000
I just checked the mails now, there are more than twenty mails from webheads. What a lively Eclass. It is nice to see that you all are so happy and enjoying yourself.
I am not sure whether i can attend the class tomorrow since I am taking driving license now, need to go to driving school every day. It would last for around two months to get the final license here.
Sue is going to Malaysia in August 2000 for Vacation.
A year later, in August 2001, Sue is planning to study English in the USA, at Texas A&M University, in Bryan, Texas. Vance and Sue were trying to figure out how far that was from Houston, where Vance's parents live. Here's a map: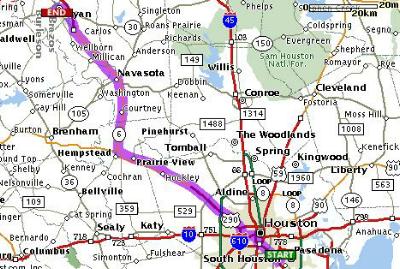 Sue made it to Texas!! Now she's in Bryan (END on the map above)
Howdy, my dear friends.
It is fantastic to come back to textbooks again, although it is a bit hard to get used to so soon. Everything is fresh, amazing. I do like the university facilities such as library, recreation center, etc. It is very comfortable and I am impressed by their computer services.
Right now there is a vote for bonfire in the main campus which was cancelled because two years ago there was an accident and several people were killed and injured because of it. Students want to keep this tradition and need each one's vote for it. It is cool.
Since I have no car, it is a bit hard to get around Texas. It is too big to move easily in. I can only ask friends to give me a ride around this town. The weather is fine, warmer than in Japan. I hope to be able to go to Houston in the coming Martin Luther King's celebration day.
P.S. anyone who is at TAMU is called aggie.
Sue has visited Houston (Vance's hometown, and START on the map above)
Yesterday we went to Houston. That was the first time for me to go out of college station for a short trip. Compared to college station, Houston would be called a huge city. We went downtown, visited my friends' office, and on the way we passed by ENRON's two shining buildings. I forgot to bring a camera with me; otherwise I could take a photo as a memory of ENRON. Who knows how fast the name will be changed. We saw CNN reporters waiting outside of the ENRON building.
There are a few things to see in Houston. I was impressed with one fortune wall, thought I did not remember the name. When I stood at the center of the wall and looked up to see the water falling down, I just felt dizzy. I heard the same reaction from other visitors.
After having a nice dinner, I was taken back home. I enjoyed houston more than college station. We joked that the day in Houston was like heaven, while I have to go back to hell for my study. They just laughed at me, and asked me why did I not change my university, into the University of Houston.
We visited the University of Houston. Although I know it is a good university too, I'm not sure of its ranking with other U.S. universities. Maybe TAMU is above it. For a good future plan I think maybe it is a good idea to stay at TAMU, but not change universities. What is you guys' opinion?
Sue had a problem with a bigot at TAMU. <-- Read about it here.
From a message from Sue, July 4, 2002
I am good at new ideas, but i find my weakness in writing is that my organization is always loose, I could not construct them into a tight body. I hope it can be improved.
I finished my midterm tests yesterday, so tired, still feel sleepy and headache. The university system in the U.S. is really different from the one both in China or in Japan. Maybe because I have not been used to it, I feel time is so limited, I have to do projects, homework everyday, I barely have any break time. Some of my friends say that that is because I have not been used to its system, once got used to it, it would be easier. I hope it is like what they said.
Sue writes in Nov 2002
Finally I confirmed my admission to graduate school for spring semester next year at TAMU. I did it :).
I might get assistantship either TA or RA. I am safe :)
I want to say thank you so much for all you guys' continuous encouragement and patience.
Thank you for help.
I really appreciate it.
Best regards
----Xue
24 Nov 2002 from: Dafne Chavez
A virtual hug for VAnce and all webheads that helped Xue achieved her goal !!! Bravoooo!
Daf
24 Nov 2002 from: s.nyrop@get2net.dk
Dear Xue,
I'm so happy that you made it. I remember all your worries at the beginning of your studies in Texas, and feel happy that you're now able to continue the studies.
---
Use your browser's BACK button to return to a previous page
For comments, suggestions, or further information on this page, contact Vance Stevens, page webmaster.
Last updated: December 5, 2002 in Hot Metal Pro 6.0
---