---
Meet Deden Sulaiman
Deden wrote down for us what he likes about Writing for Webheads
Click here to find out what's going on in Indonesia.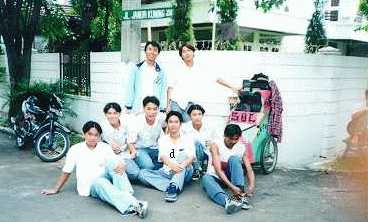 About this photo:
In this photo, you can see me with all my friends. I don't have pic of myself alone, but I've given you a clue - on this photo, I've typed "d" on my clothes; do you see it? All of my friends, we use a uniform like that. But on Monday we don't. We wear white clothes instead.
Do you see a man who is tying his shoes? He isn't a student. He is a shoes man. Do you his equipment? (SOL) printed in red colour?

My name is Deden Sulaiman. I come from Jakarta, the capital city of Indonesia. I live in a small house in Kelapa Gading in North Jakarta.. There are 5 people in my family. These are: my father, my mom, one brother, one sister, and me! I am the oldest.
I have been lived in Kelapa Gading since 1987. I was 7 years old when I started living here. I have a lot of friends here. They are very funny and cool.
I am 18 years old and I am a student in Tunas Karya Senior High School. Now at my school there is a competition in soccer. My team's name is Du Bhe ( 2 B is my class). There are 7 people on one team.
ok bye-bye
On October 20, 1999, Deden wrote about his upcoming trip to Taiwan ...
I will go to Taiwan on Novembers 15 or 17, 1999. I will live in Khaosiung. I will study the Chinese language at Sun Yat Sen University. Opening Class is on December 1, 1999. My Chinese name is Lo Tha Hai.
On February 13, 2000, Deden wrote the following from Taiwan ...
Dear All
I came to Taiwan on November 14, 1999. I live in Kaohsiung City. Right now, I'm studying the Chinese language at Sun Yat Sen University. I have been studying Chinese language almost 4 months. I can speak it a little.
I like Taiwan ... especially the views. They are so beautiful, but I don't like the food. So here I like to eat Kentucky Fried Chicken, Macdonald's, and Indonesian noodles.
You know, right now I don't have any Taiwanese friends. I live with my uncle and auntie. My uncle is Taiwanese and my auntie is Indonesian (from China). My uncle can speak Indonesian language very well. Sometimes I think, is he really Taiwanese?
I never feel homesick in Taiwan but I just feel lonely. I have some friends from the USA, Ghana and Korea. Some foreigners who can speak English, like the Americans, are working as English teachers. But I feel nervous when I speak English with them.
I think Taiwan people are interested in English language, because they are willing to pay so much to learn English. 1 hour costs 600 Nt. (1$= 31 nt). In Indonesia we pay 250 Nt per 3 months. I have studied English for less than 1 year.
Because of that, you will find tons of wrong grammar in this letter.
Ok bye-bye
But you won't find any wrong grammar in the corrections done by Vance! Deden can compare what he wrote originally with what he sees here and, if he compares carefully, he can find places where he can improve his English.
On February 16, 2000, Deden wrote back that he had done just that ...
March 6, 2002, Deden checked in again from Taiwan
I'm studying in Taiwan right now. I used to participate in this mailing list but because i was busy I didn't have time to participate. But this year I have a lot of time and I want to study English and share my experience with you guys
Susanne responded, March 7, 2002 ...
Hi Deden,
I am Susanne from Denmark and I am extremely happy to meet all you wonderful webheads since I joined last summer, I also spend lots of time online learning and practising my English (a foreign language to me, as well)
Welcome back as an active participant - we'll enjoy sharing your experiences, too. How is it to study in Taiwan when you come from Indonesia? And what is your study about?
Yours truly Webhead,
Susanne
Deden has written on the following Webheads writing assignments.
---


Use the navigation at the top of this page or your browser's BACK button to return to a previous page
For comments, suggestions, or further information on this page, contact Vance Stevens, page webmaster.
Last updated: March 7, 2002 in Hot Metal Pro 6.0
---