---
A Webheads Tutorial:
How to ftp files from your web site to your hdd
This is written for my son Glenn, who needs to get his files off his website.
To do this, you have to ...
Have WS_FTP installed and working, and be connected to the Internet of course
Have a website and know its FTP address, your account name, and your password
Got all that? OK, launch WS_FTP. Click on Connect at bottom left and you should see something like this ...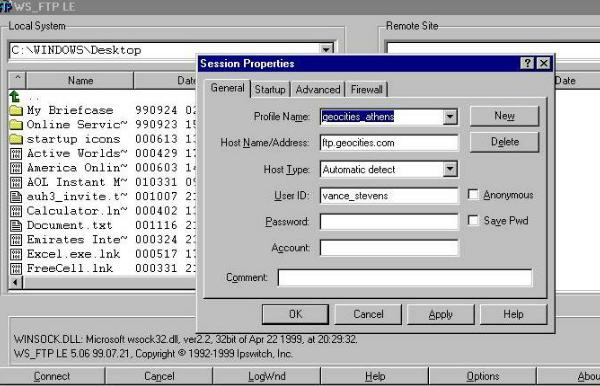 You have to write in ...
A Profile Name, anything you want, but whatever it is, your connection will be put in your FTP list by that name.
The Host Name or Address. Here, it's ftp.geocities.com
Host type ... Automatic detect works for me
User ID - That's your account name with the host
Password - write your password here if it will let you; otherwise just click OK and you'll be prompted for it
If you connect with your host server OK, then you get your host directories listed on the right and your computer's on the left. You might have to browse around your host to find your files, or maybe not. Once you've found them, browse around on your computer to find the place you want to move your files to. Obviously it's a good idea to have prepared a place for them already. If you haven't done that, just create a place in another window and then browse to it as shown below. If you scroll down to the bottom of your computer's list in the left-hand window, you'll find your drives listed.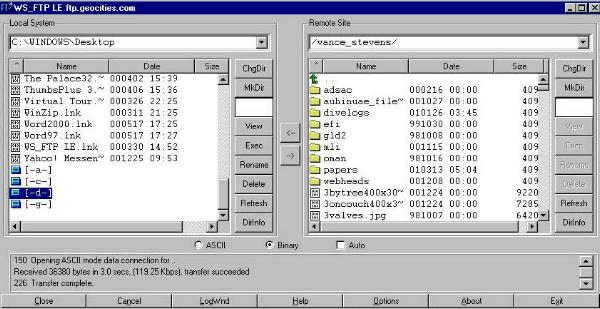 OK, now, to transfer your files from the right side host to the left, your computer, just highlight the files you want to transfer, make sure you've got the place you want them to go showing on the left hand side, and click the arrow pointing in the direction you want the transfer to take place, in this case right to left <--.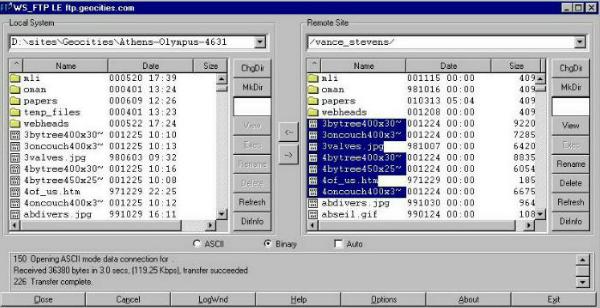 Be careful with this because this utility overwrites files without warning. It will however alert you if it detects a newer file with the same name in the location you're trying to overwrite.
If you want to copy a whole directory, just highlight it, click the arrow in the appropriate direction, and let the program mimic the directory structure in the target location.
---


Use the navigation at the top of this page or your browser's BACK button to return to a previous page
For comments, suggestions, or further information on this page, contact Vance Stevens, page webmaster.
Page created April 1, 2001 - Last updated: April 1, 2001 in Hot Metal Pro 6.0
---