---
Meet Mariann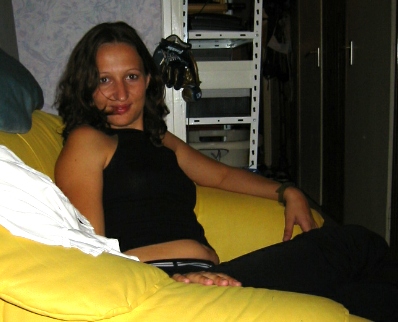 My name is Mariann, and I'm from Budapest, Hungary. I'm 27 years old. I'm a pediatric nurse, but I'm not working as a nurse anymore. It is not a well paid job in Hungary. I lived in the States for 20 months, and I came back to Hungary this September. I was an Au Pair, and I lived in Connecticut.
I'm a nanny now in Budapest, and I'm a student at the Protokoll University. I have to take an English exam, which is why I was looking for an e-school.I don't have so much time to go to a real school, and I love to spend my free time on the internet. So, it could be useful also, not just fun.
I have a fiance, who is 8 years younger than me, but we have a great relationship.We met on the internet when we were in the States. He was in Miami as a student.
I think this is enough for now.
Rosemary Lam responds
Nice to meet you! I was in Budapest on vacation last Easter. It is a nice place. I was impressed by the convenient transport. The transit railway is marvellous. As a foreigner, I needn't take a taxi and can go everywhere within Budapest by the help of the city map. The food and merchandise there aren't expensive. The architecture there is great and full of historical memories. I am especially fond of olden days architecture. If I can save up enough money I will go there again.
Mariann replies Jan 20, 2003
I'm so happy you had a good time in Hungary! And you were lucky also, to not use a taxi. They are not so fair. I don't take taxis, only if it's an emergency. I really like Budapest, but I was born in another city, called Kecskemet. This city is about 80 km from Budapest. I'm living on the Buda side, where there are a lot of mountains around. Actually, I'm living on the top of one of them. Next to the house is a big woods, and we can see through to the opposite hill also, which is really beautiful. There is a Museum in Budapest,called House of Terror. Did you see that also?? I hope you will visit us soon!
About Hungary, Jan 22, 2003
It's kind of hard to speak about my country. And I don't really know what can I say. It's a really nice country, but I have seen better ones. The people are nice also, but usually they are mean, and pessimistic. If my information is correct, Hungary has a greatest corruption in Europe. The people are poor, or rich. Or, if you are not rich or poor, you are on the way to be one of them. I really don't want to say anything bad about my country, becouse it is not so nice, but nothing really keeps me here, except my family. That's why I came back from the States. I'm trying to live here, and I'm trying to survive. Some part of me says I'm proud to be Hungarian, but the other part is not so proud. I'm a student at the University of Protokoll, so I hope I can change somthing in this country. I like it, becouse this is my home, and there are a lot of nice things here, and a lot of bad, which I can't really accept. I'm sorry my letter is not so positive, but I don't want to lie. Of course, Budapest is the most beautiful city in the word, but underneath the lights it is really dark.
---


Use the navigation at the top of this page or your browser's BACK button to return to a previous page
For comments, suggestions, or further information on this page, contact Vance Stevens, page webmaster
Last updated: January 24, 2003
---