List of Tutorials created collaboratively by the EVO Coordination Team: http://daf4.free.fr/settings/yg-index.htm
Tiny URL for this tutorial: http://www.tinyurl.com/a8ut5
Electronic Village Online (EVO) Training:
How to deal with bouncing members in YahooGroups
This document covers information about how to help participants who have stopped receiving email from your Yahoo Group. It concerns the distinction between active and bouncing members of your group, and how to interpret information given about those in the latter category. The document suggests how you might reactivate members who have only temporarily fallen into bouncing status, and how to determine which bouncing members have email addresses that are no longer valid, so you can remove them from your group.
Prepared by Vance Stevens; updated Aug 20, 2005
This tutorial tells what to do when you discover bouncing email addresses in your Member / Bounce list. For what to do about participants who contact moderators about problems with their group emails, see Buthaina Al Othman's tutorial at http://alothman-b.tripod.com/evonline_bouncingemails.htm
YahooGroups gives moderators excellent tools for
There is more information on dealing with bouncing members linked from the Group Memebers Help page in Yahoo: http://help.yahoo.com/help/us/groups/members
YahooGroups allows you to download lists of group members, but there are separate lists for members whose email is working and those whose email servers are bouncing messages. In the latter case, YahooGroups tells you if it's a hard bounce or a soft one, and you can see the messages that those servers are returning to YahooGroups and from them decide how to deal with members in your group who are not able to receive group emails.
You can look up Soft and Hard Bounce in Google to get more information on interpreting that distinction.
Yahoo Help on What are "bouncing" members? is here: http://help.yahoo.com/help/us/groups/members/members-15.html
Whose email is bouncing?
Yahoo Help on Where do I find a list of "bouncing" members? http://help.yahoo.com/help/us/groups/members

In the left-hand frame click on Members, and as moderator you have a set of tabbed tools. Click on the Bouncing tab to get a list of members whose email has been bouncing. Under Bouncing Status you can click on View to get details and more tools for dealing with the problem.
Note: bouncing members might appear in both your Members and Bouncing list -- or they might be in the Bouncing list only and not listed as Members. Both ways can be confusing.
If they are in the members list and if you Download that list, then you won't be able to see who's bouncing (and might assume all addresses listed are working - but in the Web interface it is indicated who is bouncing).
When bouncing members don't appear in your Members list then this might also be confusing ... until it occurs to you to look for them in the Bouncing members list.
Diagnosing the likely reasons for the bounces
Yahoo Help on What does the bounce information on the Bouncing Members page mean? http://help.yahoo.com/help/us/groups/members/members-18.html
Click on View History.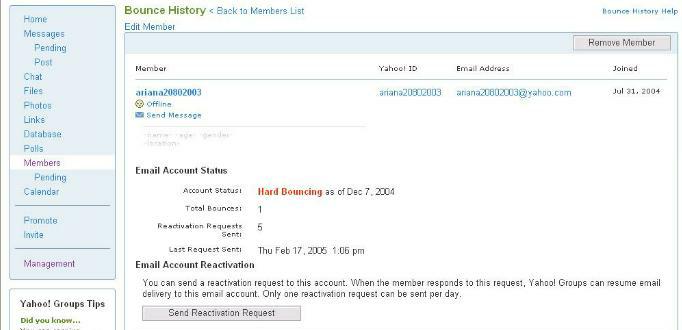 Here you can see
whether the bounce is a SOFT bounce or a HARD one
when the bouncing started
when the last reactivation request was sent
If you think the delivery failure is only temporary, you can send a reactivation request.
Yahoo Help on reactivation: http://help.yahoo.com/help/us/groups/members/members-17.html
This causes YahooGroups to send an email to the address with the delivery problem explaining that there has been a problem which has caused YahooGroups to put that email address on bounce status and giving the recipient instructions for rectifying the problem (assuming that the participant is able to receive the message).
You (or any moderator of a group in which that address is enrolled) can send ONE reactivation request a day. If you have not sent such a request but YahooGroups reports that a Reactivation Request has been sent already that day, then probably a moderator of another group in which that member is enrolled has sent such a request.

If the recipient receives the message and takes the necessary action then Yahoo takes that address off its bounce list and reinstates that member to active status for any groups with which that email address is associated.
If the mail bounces then Yahoo makes no change to status, but reports any error message in such a way that you can see those messages.
If the mail doesn't bounce yet the recipient takes no action then Yahoo allows you to Reinstate that member, but only after there has been no bounce for FIVE days. You can then restore the member to active status by clicking on the Reactivate button which appears on this screen after 5 days have elapsed.
On the same page, you can scroll down for more information ...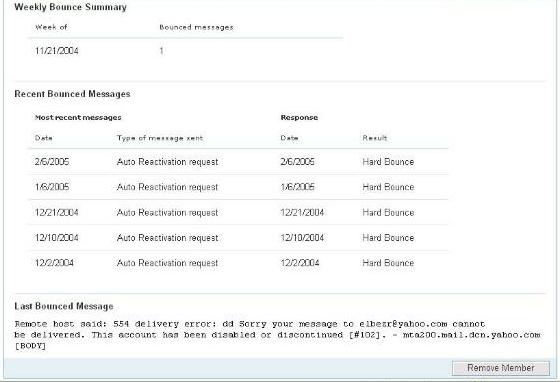 Here you can see more information.
Yahoo Help on What does the Account Status information on the Member Profile pages mean? http://help.yahoo.com/help/us/groups/members/members-19.html
You can see the results of the last several attempts to send email to this member (and the dates). Keep in mind that, because members might be enrolled in more than one group, not all the activity listed necessarily pertains to your group.
The last bounced message is particularly useful. This is the text of the message returned by the email server that failed to deliver the email. The message above says that this account has been disabled or discontinued, which suggests that you can remove this member from your group, but not all messages are so straightforward.
To interpret any message, simply copy a portion of it and paste that text into a Google search field (the number and type of error will probably be productive e.g. '554 delivery error'). This will help you to judge whether to persist in retaining this member or not.
Here you can also remove members if you think their email addresses are permanently inactive.
Vance Stevens, http://www.vancestevens.com/vance.htm
Other tutorials by Vance Stevens: http://www.homestead.com/prosites-vstevens/files/efi/tutorials/tutorlist.htm